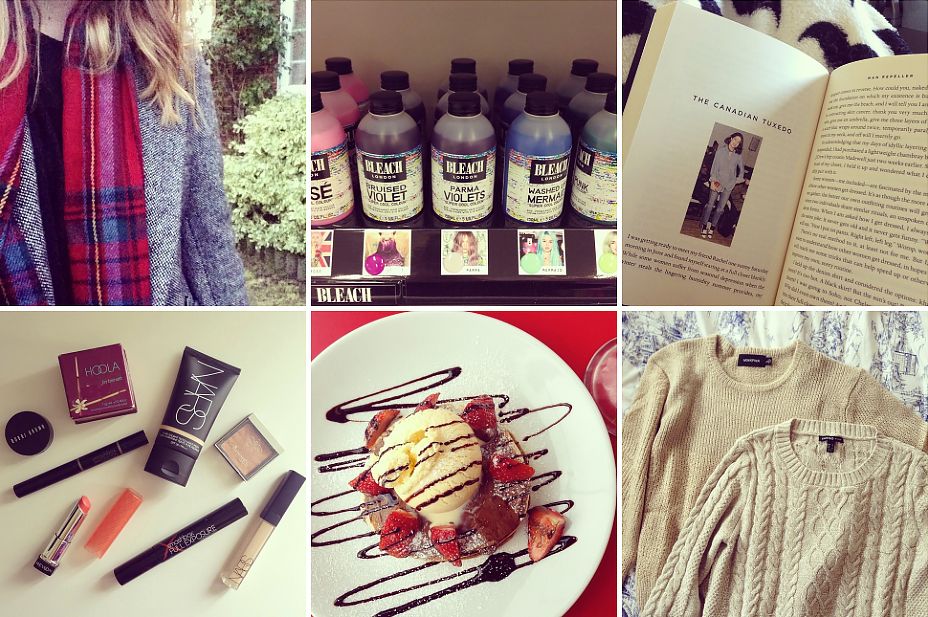 01. Finally I have found the perfect tartan scarf - thanks Primark! | 02. Contemplating a colour transformation with the new Bleach London dyes | 03. An afternoon spent with Leandra Medine and her Canadian Tuxedo | 04. Saturday morning make up | 05. Doing breakfast the right way with Banana and Nutella pancakes | 06. Some cosy new Autumn additions from Mink Pink and Mango

Product of the Week: As you may have clocked in my recent Autumn Get Ready With Me video, the Smashbox Waterproof Shadow Liner in the shade Black Gold has been getting some serious love from me this week. The perfect burnished olive green shot through with gold shimmer, I've been slicking this over my eyelids on a near daily basis since it's purchase. Snap it up soon though as the Fade to Black collection which it hails from is only out for a limited time - I may need to stock up!

Must-Read of the Week: This week coming to you in both internet and paper form. I picked up a copy of Leandra Medine's (aka the Man Repeller) debut novel, Seeking Love and Finding Overalls and have now become utterly obsessed with her witty writing and enviable style. Since finishing the book I've been hooked on ManRepeller.com, the place to go for all things fashion, and have now started to look at my wardrobe rather pitifully in comparison..

Endlessly Wishing For: Oribe Maximista, get in my life. I wasn't particularly swayed by their now cult Dry Texturising Spray but since seeing this make it's way around a handful of ladies who's hair I seriously respect I feel as though it's time to take a look at what Oribe has to offer. A pre-blowdrying thickening spray that promises root-to-tip volume and serious hold time this looks like the ultimate for extreme oomph. I may be heading to the Space Nk website as we speak..!



YouTube | Twitter | Bloglovin' | Facebook | Instagram