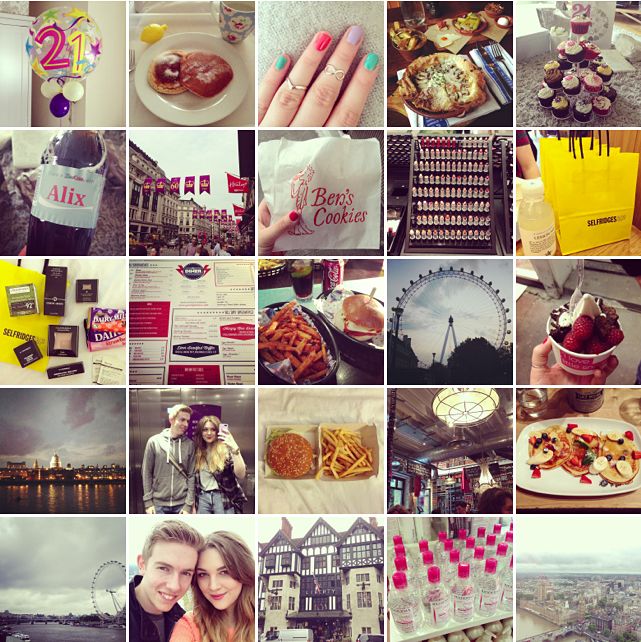 01. Making things oficial with a fancy balloon | 02. Pancakes in bed for the Birthday Breakfast | 03. Sampling Essie's Summer Collection and loving these Midi Rings c/o Dixi | 04. Jamie's for lunch and quite possibly the best food I've ever tasted! | 05. Forget Birthday Cake, it's all about the cupcake mountain! | 06. My Dad showing off his mad photoshop skills with a personalised Coke bottle that finally has my name! | 07. Taking in the scenery on Regent Street | 08. My first absolutely delicious Ben's cookie | 09. MAC lipstick heaven | 10. Not one, not two but three Selfridges bags.. | 11. ..and their contents. | 12. A stop off at the Diner in Islington for dinner | 13. Haullomi burger and sweet potato fries, you were beautiful. | 14. Watching the sun set over the London Eye | 15. A late night Snog; Oreos, brownie, raspberries, heaven. | 16. St Paul's lit up at night from across the Thames | 17. Starting up bright and early on the second day.. | 18. ..which unfortunately ended up with a very long headache induced nap and a midnight McDonald's. | 19. We couldn't leave without visiting Bill's for breakfast. | 20. Blueberry pancakes with all the trimmings! | 21. Typical rainy london. | 22. ♥ | 23. Last shopping stop off at Liberty | 24. An entire shelf of Bioderma which made me very excited. | 25. The view from the Eye just before we left and a sad goodbye to the best City!

As you've probably already seen if you follow my instagram, last week was my birthday and not only was I spoilt rotten with some lovely gifts but Darren and I also took a three day trip to London where a whole lot of shopping, eating and clichéd sight-seeing went down. I absolutely Love everything about the city and sometimes feel like packing my life up and moving there!

Products of the Week: Step up Giorgio Armani Luminous Silk Foundation. We may have had our reaction-related problems in the past but after a quick patch test at the counter and a nervous five minute wander around the Selfridges Beauty Hall all was well and I scampered back to pick up the foundation that's been on my face all week long. Covering yet light, creamy and radiant I truly think this is the start of a love affair.

On the Wishlist: Thanks to this weeks shopping extravaganza there's not a single product on my mental wishlist that I didn't get my hands on.. except one. After making my way through Selfridges, Liberty and three separate Spake NK's the Nars Radiant Creamy Concealer in Vanilla has completely eluded me. Do I take this as a sign or carry on my pursuit for what's hailed as one mighty cover-up, only time and my patience will tell!

Can't-Stop-Staring-at-My-Nails Colour of the Week: Adding to the ever growing list of 'Things that Kate made me buy' comes Essie's Watermelon. I'm never one to go for pink nails, ever, but recently they've been calling out to me and something about this rich juicy shade oozed sophistication but also looks incredibly fun when dressed down. I officially love it.


YouTube | Twitter | Bloglovin' | Facebook | Instagram