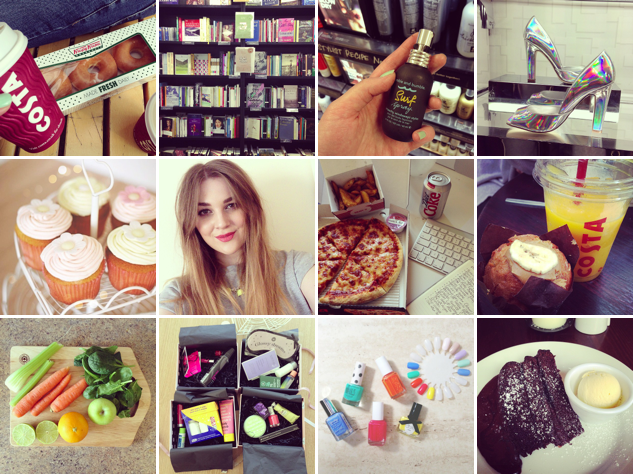 01. Costa and Doughnuts for Breakfast | 02. If it were bookshops vs. beauty halls I'm pretty sure books would win every time | 03. A mini BB Surf Spray, adorable! | 04. Some seriously holographic heels in Next | 05. Daisy Cupcakes from this post | 06. Fringe! | 07. The best kind of working lunch | 08. More unhealthy food. Addicted to Costa. | 09. Trying to make things right again with some healthy juicing | 10. Receiving four GlossyBoxes from my old address and not even knowing I was still getting them! | 11. Playing with some spring colours for yesterday's post | 12. Best Chcolate Fudge Cake I've had in some time!

Must Watch of the Week: Anna's fashionable goings on with This Works' new In Transit range, a group of products I've been keeping a close eye on recently. Informative and incredibly well put together, can this girl do no wrong?

On the Wishlist: Neal's Yard Healing Foods Recipe Book, more than likely spurred on by this post from Suzie. You may think from the amount of pizza/cake/chocolate and generally unhealthy foods I post on instagram that I don't have the best of diets, but aside form those little treats I do really care about what I put into my body on a daily basis and this book looks just up my street.






YouTube | Twitter | Bloglovin' | Facebook | Instagram